Peanut butter. In oatmeal. Mmmmmmmmm.
Okay, so I discovered how delicious peanut butter is in oatmeal this morning and I just had to share!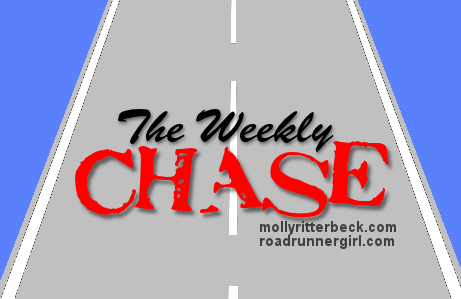 Last week I decided to focus on one thing from each "area" of my life and while I didn't complete all of my goals I definitely think it helped!
Clay
Eek, I didn't do this because it was too cold to take Clay running and the park is right next to yoga, BUT Clay and I did get some good snuggle/play time in this week!
Me
Done! Woohoo!
Work
So I didn't get in until 9 those days so I had to work a four hour day on Friday. Not ideal, but a definite improvement.
Home
Finally. Done. I feel like my life instantly became calmer once the table was cleaned off! Hopefully it will stay this way...
Fitness
Welllllll, I ran once... Liz and I could only meet up once to run this week and I really struggle to run on my own!
Food
Done! I'll be sharing the recipe for the frozen breakfast burritos later this week!
Others
Done! I (finally) finished Liz's Christmas present and I attempted to leave "good lucks" on fellow chasers posts but for some reason my silly ipad wasn't cooperating!On to this week...
Clay
Finish going through Clay's closet. I finally started this and got halfway through before I had to stop. Also, I'd like to spend less time rushing to get everything done and more time enjoying my time with Clay.
Me
Buy myself flowers. So before life got crazy with baby I used to keep flowers on my table all the time. Seeing fresh flowers just brightens my day :)
Work
Make Z&Z a special snack. I found a recipe for zucchini sticks and another for healthy mozzarella bites.
Home
So I have this closet. It's actually a rather large closet- like large enough that I have put my desk in there and it will double as an office. This closet has been a dumping ground since we moved in for all of the random stuff that doesn't have a home plus everything that I actually want to keep in there. Needless to say, I haven't been able to use it as an office or anything really because it is a MESS. So my goal this week is to get it usable.
Fitness
Register for the Thunder Road Half in November. Eek! I can do that, right??? And focus on getting up to running 5k without stopping.
Food
I'm not sure if I will try any new recipes this week since my mom and aunt are coming to town at the end of the week but I have a couple of new foods I want to make for Clay to try.
Others
It's a secret :) I'll let you know how it goes next week!
Good luck to all of my fellow chasers!
Love,
Jess